Features
A particularly unique feature of Mary Valley Vista is Nest Box Cam, where you can watch the activities of one of the many nest boxes installed around the property for hollow dependent fauna. An infra red camera captures live footage inside the nest box which is then transmitted to a TV monitor inside the cabin. Squirrel gliders are regular visitors to the nest boxes.
You can enjoy a walk to Obi Obi creek where you might spot the resident platypus, or a walk to the lookout where fabulous views of the surrounding valley are enjoyed. There is an extensive range of reading material and board games for entertainment, or satellite TV, DVD/CD is available. There are plenty of spots to sit and soak in the atmosphere. A variety of outdoor seating is available depending on your mood; hammock, bar stools, lounge or outdoor setting. There is something for everyone.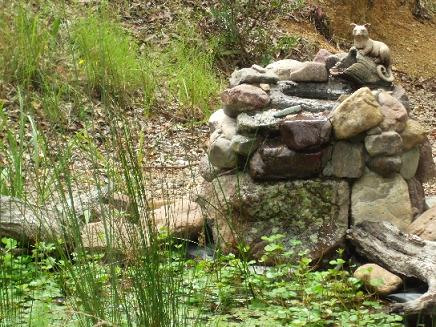 A frog pond with a waterfall is a focal point outside the cabin that attracts an abundance of wildlife such as frogs, birds, dragonflies, butterflies, and so on. A water feature such as this where the water appears to be flowing towards the front door is said to bring fortune to those within, according to Feng Shui design. Other aspects of Feng Shui have been observed in the design and furnishing of the cabin in order to create an harmonious energy for our guests. We encourage feedback from our guests on their stay and where there is room for improvement.
Features of the cabin include:
Loft bedroom has queen size bed
Downstairs bedroom 2 single beds
Unique local artwork
Fully equipped kitchen with gas cooking
Combined Dining and Living area
Combined Bathroom and Laundry
Slow combustion wood burner & firewood
Ceiling and wall fans
BBQ and outdoor setting
Complimentary cleaning and toiletry products
Complimentary supplies-eggs, bread, milk, tea, coffee and sugar
Wide range of reading material and board games
Satellite TV, DVD, CD, Tape deck
Nest Box Cam(with dedicated TV monitor)
Wildlife Register(to record your wildlife sightings)